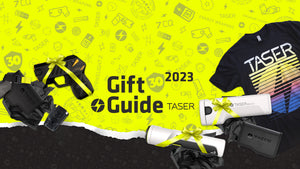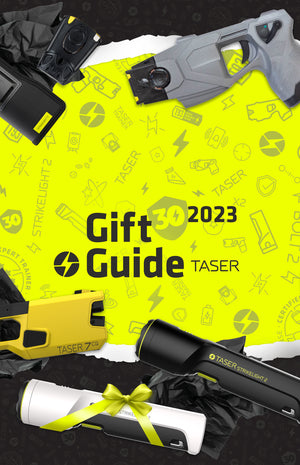 DEVICES FOR EVERYONE
Let's unwrap a little self-defense.
For everyone on your list, there's a TASER self-defense device. From energy weapons to our innovative StrikeLight 2, when you give the gift of self-defense, you get a gift too, knowing your loved ones are protected year-round.
GIFT GUIDE 2023
For Him
Surprise the gun guy in your life with a TASER energy weapon that will complete his arsenal.
TASER X1
The TASER X1 is the same device that enforcement agencies employ all over the world, but now it's available to civilians for home defense and professionals such as security personnel or delivery drivers.
Buy Now
TASER 7 CQ Home Defense
The advanced performance of TASER 7 CQ makes for greater confidence in his personal protection and home defense. Features a 12-foot reach, contact stun, and can deliver a 5-second cycle.
Buy Now
Gift Guide 2023
For Her
Freedom is being able to go wherever and do whatever you want, and this is the real gift when you give a TASER device this holiday season.
Bolt 2
Don't let the discreet looks fool you, the TASER Bolt 2 energy weapon is the newest civilian self-defense device. Keep danger up to 15 feet and 30 seconds away, and get our Safe Escape Replacement Guarantee.
Buy Now
StrikeLight 2
The TASER StrikeLight 2 provides industry-best stun-gun effectiveness in the form of a portable flashlight with three distinct light modes. Get close-contact stun and long-distance warnings with the ultra-portable TASER StrikeLight 2.
Buy Now
GIFT GUIDE 2023
For Practice
Ensure your TASER owner has everything they need to train with their device. This list makes great stocking stuffers.