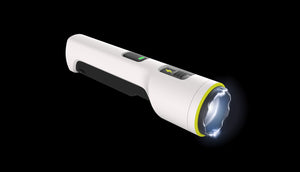 Quick Start
StrikeLight 2 Overview
TASER Self-Defense Civilian Instructor Robin Churn tells you everything you need to know about the StrikeLight 2.
Best Practices
Learn best practices for using the StrikeLight 2 in your everyday life.
Device Maintenance
Keep your StrikeLight 2 in top shape, so you are ready no matter what.
TASER StrikeLight 2
Frequently Asked Questions
No. The StrikeLight 2 is a contact stun device only.
A StrikeLight 2 only works on pain compliance. An attacker may very well recoil from the pain induced but the attacker's muscles will not lock up.
The StrikeLight 2 has 3 light modes: designed for personal safety:

-Red Light: discreet and ideal for preserving night vision
-Low Light: 150 lumens perfect for normal use
-High Light: 700 lumens to disorient potential threats
The StrikeLight 2 has a rechargeable battery with a standard USB-C universal charging cable.
The StrikeLight 2 will take ± 2 hours to completely charge. May vary depending on battery level.
Additional StrikeLight 2 Items