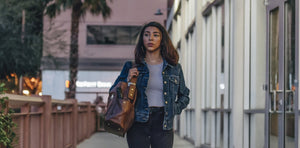 Real People, Real Stories
SELF-DEFENSE EXPERTS
Self-Defense Experts Stand Behind Our Products
Most people are uncomfortable with taking a life, and will hesitate to pull the trigger on a gun potentially costing them their life. A TASER device doesn't carry that same finite feeling, therefore my clients will be far more likely to act instantly. I recommend a TASER Pulse+ to all my clients...
— James Hiromasa, CEO and Senior Master Instructor of Tactical Krav Maga
I believe the TASER Pulse+ device is the perfect self defense solution for someone who is not comfortable carrying a firearm. I've given many concealed carry prep classes and heard students say they're not sure they could use a firearm if their life was in danger, but, when asked, 100% of them felt they would not hesitate with a less-than-lethal device.
— Denny Chapman, owner and operator of Florida TASER Training
Consumer Stories
Real People, Real Stories
★★★★★

Having a Pulse+ in my household puts me at ease knowing we're prepared.
Amazing customer service and willingness to answer any and all questions. Great brand and mission, I will continue to be a customer of TASER's for years to come.
★★★★★

I love my TASER [device]. I have class late at night and it is so comforting knowing I have it if I ever needed to protect myself.
★★★★★

Seems like a great product. Bough one for my wife. Compact size and easy to conceal. Tested the Noonlight feature. After pulling the trigger on my Pulse+ my wife received a text message within 5 seconds and then a call within 10 seconds. Great peace of mind, just hopes she never has to use it!
★★★★★

The StrikeLight is fabulous. The battery is easy to replace when necessary. The longevity of the battery is great compared to cheap units that after using it to make the zapping noise a couple times to ward off a stray aggressive dog and then stops functioning. While a little more costly, it is well worth it and has been dependable for me.
★★★★★

Ever since I got my TASER [device] I don't worry about creepers when I'm out at night or on runs by myself. If anyone thinks I'm vulnerable, they're confused! Don't mess with me!
★★★★★

As soon as he saw my TASER [device], he immediatly ran off. I was horrified at what could have happened, but thankfully I was safe.
Your Experience
Tell Us Your Story
Have you ever used your TASER device in self-defense? Share your experience and let the world know all about it. As a thank you, you'll receive a 15% off code to use on your next TASER purchase.
Submit Your Story
Tested & Trusted
In-Depth Review